SUNRISE™ WINTERJEWEL®
Bozsunrwin Ⓝ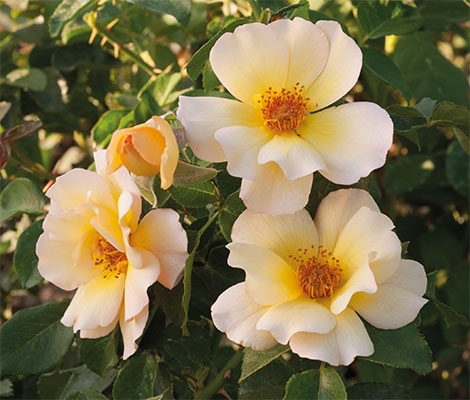 COLOUR: Yellow-peach
FLOWER DIAMETER: 7-8 cm
FLOWER TYPE: Semi-double
ROSE TYPE: HT
HEIGHT: 60-70 cm
PLANTS/m2: 4-5
SPECIALTY: Hybrid Tea type of flower. Peach colour on the edges to yellow in the center.
Rose that loves the sun so much that it houses it in its flowers. Its colour fades to a soft peach-yellow as you move away from its centre making it resemble a sunrise. The sunlit flowers are well matched with healthy, glossy and attractive foliage. It readily forms a medium-sized blooming shrub making it ideal for mixed borders and rose beds. It gives a pleasant, warm impression to any landscape.