SCARLET™ WINTERJEWEL®
Bozscarwin Ⓝ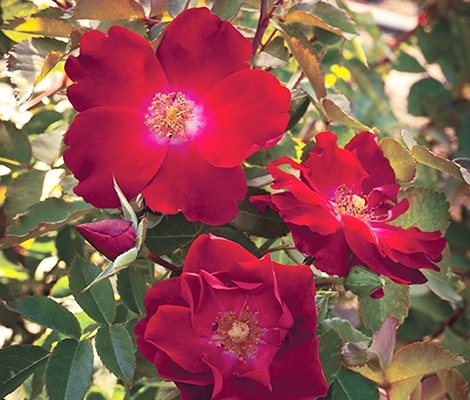 COLOUR: Medium red
FLOWER DIAMETER: 4-5 cm
FLOWER TYPE: Semi-double
ROSE TYPE: Small-sized shrub
HEIGHT: 40-60 cm
PLANTS/m2: 4-5
SPECIALTY: Natural, open red flowers with nice anthers. Shiny and leathery dark foliage.
Is there a better way of presenting our semi-double Winterjewel® collection than with this exceptional red rose? It is a very attractive variety with fully open, large, flat flowers that are produced with quite reliable continuity. Flowers are intensive red in colour with golden stamens in the middle. Well shaped, vigorous bush of medium height with luxurious, shiny and leathery dark foliage makes a great impression in mixed borders, rose beds or edges.