BLUSH™ WINTERJEWEL®
Bozbluswin Ⓝ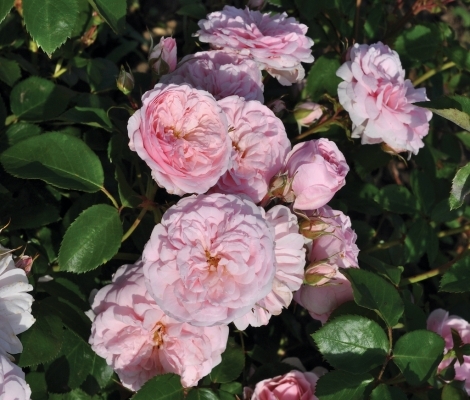 COLOUR: Blush pink
FLOWER DIAMETER: 7-8 cm
FLOWER TYPE: Double
ROSE TYPE: Medium-sized shrub
HEIGHT: 80-90 cm
PLANTS/m2: 3-4
SPECIALTY: Shape of flower close to MOE type. Very tall. Light scent.
Enrich your garden with this beautiful warm light pink rose and you will be rewarded with more than just a pretty packaging. It comes together with an enchanting and mysterious scent which will make this rose the one that you stop by each time you visit your garden. It has clustered rich flowers opening to an informal rosette shape that stands on a strong medium-sized bush. Do not be deceived by its gentle appearance, though, since it is extremely resilient and will survive even the coldest winter temperatures.