GAUDY™ PIXIE®
Bozgaudpix Ⓝ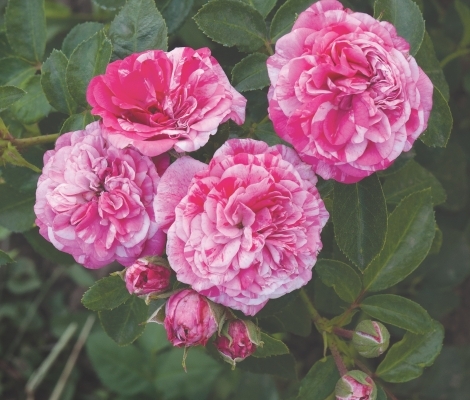 COLOUR: Striped white – pink
FLOWER DIAMETER: 4-5 cm
FLOWER TYPE: Double
ROSE TYPE: Groundcover
HEIGHT: 50-60 cm
PLANTS/m2: 3-4
SPECIALTY: Striped flowers.
Definite eye-catcher, this striped miniature rose is sure to stand out in any garden arrangement. Its many petals in the shape of a rosette in two striking, perfectly aligned colours, give this rose a distinctive and astonishing look. In the right light, the flowers present themselves as having an almost pearlescent colour, moving from a gentle pink to a pure white colour. The bush is a small and dense one, perfectly fitting in borders, but the sheer beauty of this flower will leave it up to your creativity to use it anywhere you like.